On Wednesday the 21st of march we proudly christened our newest vessel the SC Sapphire!
Together with a big group of enthusiastic colleague, customers, (sub)- contractors, family, friends and all other relations, this day turned out to be very successful.  Mrs. Haan, who is also the wife of Major Haan of Maassluis baptized the vessel and wished the vessel and her crew a safe voyage.
The SC Sapphire is the largest vessel of our fleet and her structure is based on the successful SC Amethyst, her 20 meters long sister. SC Sapphire has some great innovative features and combines extreme workability with little draft. The triple NAM tractor jets propulsion generates a booming 12 tonnes of bollard push which is available even at shallow waters down to 1.5 meter. The vessel has a huge Sea keeper gyro stabilizer on board, giving her that extra level of comfort which increases the workability even more.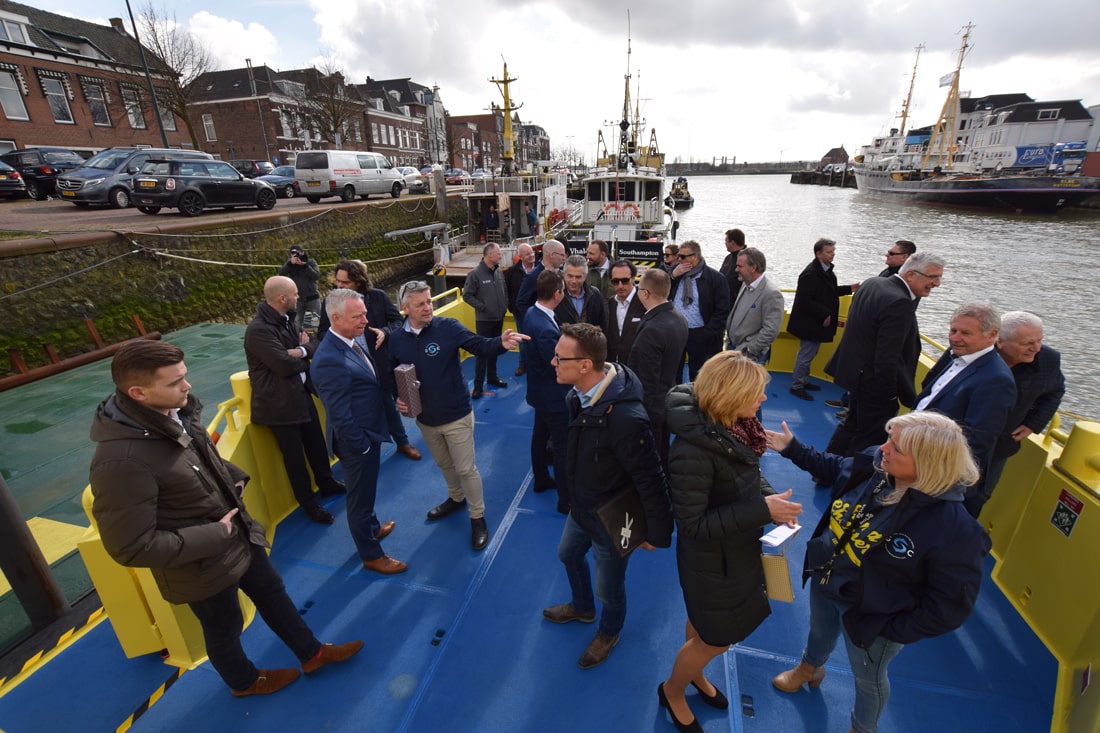 Her foredeck of over 20 square meters also holds possibilities to store delicate equipment below deck in port and at sea by use of her own crane. Integrated on the aft is a quick operating MOB lift that can be used simultaneously with the full vessel controls, in order to act quick if a person falls over board. The aft deck of over 30 square meters can be fitted with our interchangeable pax container to generate even more inside space, or it can be used for extra storage.
The SC Sapphire will be the fourth vessel of the specific Sima Charters MPT series developed by Sima Shipsales and based purely on feedback from our clients and vessel crew.
We would like to thank all the people who have worked on this project. The result is everything we wish for. Also special thanks to all the people present during the christening last week, we enjoyed it and appreciated all very much.